What Happens During a Couples Massage
posted on:
October 19, 2020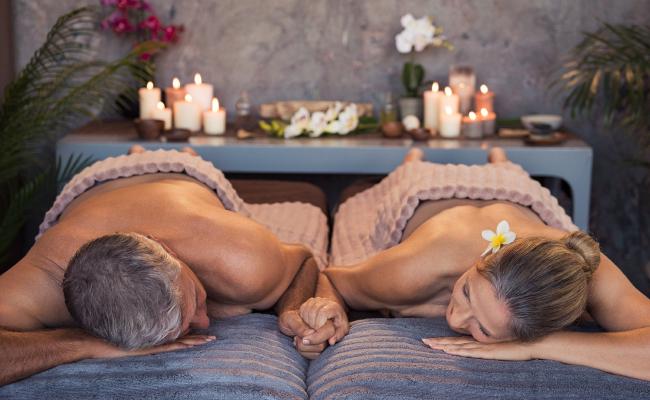 Couples massage is getting more popular. It's for lovers, friends, moms, and daughters. But how do you know if it's a good choice for you?
Here at Massage Me Day Spa, couples massage is one of the most popular services we offer. It makes up around 27% of our total bookings! So it's no surprise we encourage everyone to come on in and try it out.
The couples can be a husband and wife, girlfriend and boyfriend, same-sex partners, mums and daughters, best friends, or any other combination of two people. It isn't strictly for couples (despite what the name says).
Couples massage takes place in a room that holds two massage tables. In a couples massage, 2 people are massaged at the same time by 2 therapists. They are often romantic but can be booked for friends and family too. Don't worry, during a couples massage you'll still get individual attention to address your specific needs.
The benefits of couples massage.
Couples massage is a good choice when lovers are in the early stages of romance and want to spend every moment together. They want to share everything, even their massage.
It's also a great way to introduce a partner who has never gotten a massage before in a way that makes them feel more comfortable the first time.
Some men can be apprehensive about getting a massage because of the intimacy involved, and to have a partner there is reassuring. Many men have been converted to the power of therapeutic massage after being introduced by a partner or a loved one. Once they experience couples massage, they feel more comfortable booking on their own.
Sometimes you're not intimate partners, just travelling with someone you don't get to see often enough—a sister, mum, or a best friend maybe—and you want to spend as much time together as possible. Any of these scenarios are fine because you make the rules up. If you want to talk to each other during your massage, you can. If you want to quietly commune, that's good too. Our therapists will follow your lead.
How much does it cost?
The price of your couples massage depends on the length of the booking. At Massage Me Day Spa, our couples massage is slightly cheaper than a regular massage for two people—starting at $189 for 60 minutes. So if you want to get the best value massage, coming with a partner is the way to go.
Is there any downside to couples massage?
For some people, the idea of getting a massage with someone else in the room—even a loved one—leaves them cold. What if they want to talk and you don't? Or the other way around?
Many experienced spa-goers find it distracting to be in the same room at the same time as anyone else during a massage. They prefer to get their massage alone, and then meet up afterwards.
The potential problems come if you have different expectations and needs during a massage, particularly if one person wants to zone out, and the other likes to talk. It helps if you know how much the other person likes to talk during a massage—a lot, a little, or not at all—and whether it's a good match for you.