Four Handed Luxury
posted on:
June 10, 2020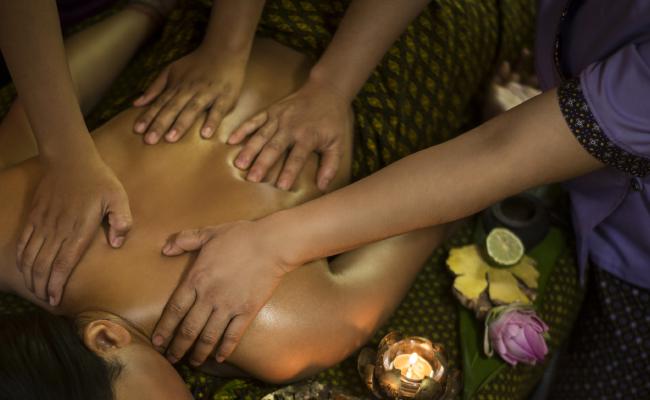 Experience the bliss that is Four Hands Massage at Massage Me Day Spa
Among the many thousands of massages, we've delivered over the years. Only 70 people have ever experienced the bliss that is the four hands massage. Granted it is excessive, it's also expensive. But as an experience, I believe it's something worth trying at least once.
A regular massage can only focus on one area of your body at a time. One therapist limits the amount of attention to only one focal point at each interval. With two therapists you effectively double your massage potential, not to mention the results. Let's also be honest, who doesn't need that level of pampering these days.
An hour of Four Hands massage will leave you feeling blissfully peaceful. It will ease all the troubles in your mind and leave you feeling like you're floating on a fluffy white cloud. With double the normal attention your body's feel-good hormones won't know what hit them.
What is Four Hands Massage?
You might have read this far and still be thinking to yourself 'Okay, that sounds great, but what is a Four Hands Massage?'. Well, the answer to that is in the name. It's where we have two therapists working on your body at the same time. This results in a higher level of attention where otherwise one therapist would only be able to focus on one part of the body at a time.
This means we can work more of your body, which means more relaxation and benefits.
Typically, a Four Hands massage will give the therapists more time to work your muscles. Focusing on areas that they otherwise might have needed to pass over to keep other areas in a relaxed state.
Is this something you should book every visit?
No, of course not. The Four Hands massage is a luxury. It's a treat to yourself. Maybe you've had a particularly rough week. Or maybe your body is feeling particularly stressed. Or possibly you've had a fantastic week and want to reward yourself for it. The Four Hands massage is an indulgence, and you should keep it like that. Something to look forward too and keep special.
So What Are the Benefits?
Besides the luxury of a Four Hands massage, there are some legitimate benefits and arguments to be made for why Four Hands massage is worth trying.
By utilizing two massage therapists instead of just one, Four Hand massage provides even more relaxation than the standard method.

By working different areas of the body at the same time, Four Hands massage allows for more intense muscle-soothing than a regular massage.

Massage therapists often combine different massage techniques during Four Hand massages. This combination allows therapists to offer the most appropriate massage style for each part of the body, helping each client feel better inside and out.

It is easy to feel stressed out, but massage therapy offers relief to both the body and mind. Give yourself more time to relax and clear your mind by scheduling a Four Hand Massage.
Where can I book?
You can book in for a Four Hands massage at any time. Just visit our bookings page here to make an appointment.
Or better yet, click here to buy a gift voucher for a friend to try Four Hands massage too.
We hope to see you all soon!