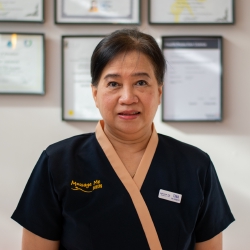 Tina S
With years of experience under her belt, Tina is one of our best therapists.
---
When did you start your journey with massage?
'The first time I started practicing massage was in 2002. Since then I've spent years working to try and hone my abilities to the best they can be.'
What first interested you about massage?
'As with most people in this line of work I imagine, my first reason for beginning massage was for money. But since then I've learned many things about massage and now I love it for what it is.'
What is your favourite massage technique?
'I enjoy massage that involves stretching the body. Like yoga, it is a great way to relax, refresh, and renew my energy.'
What do you like about working at Massage Me Day Spa?
'The team at Massage Me Day Spa is great to work with. We're all friendly and every day is a blessing. I'm really thankful I work here.'
What massage technique do you most recommend to your customers?
'Thai yoga is great technique for stretching out the body. It's less traditional than Swedish massage and involves less oil. But your body will walk away feeling 10x lighter.'
What massage training have you received?
'I spent years learning at the Mandara Spa. As well as Thai massage training at the union of Thai traditional medicine society.'